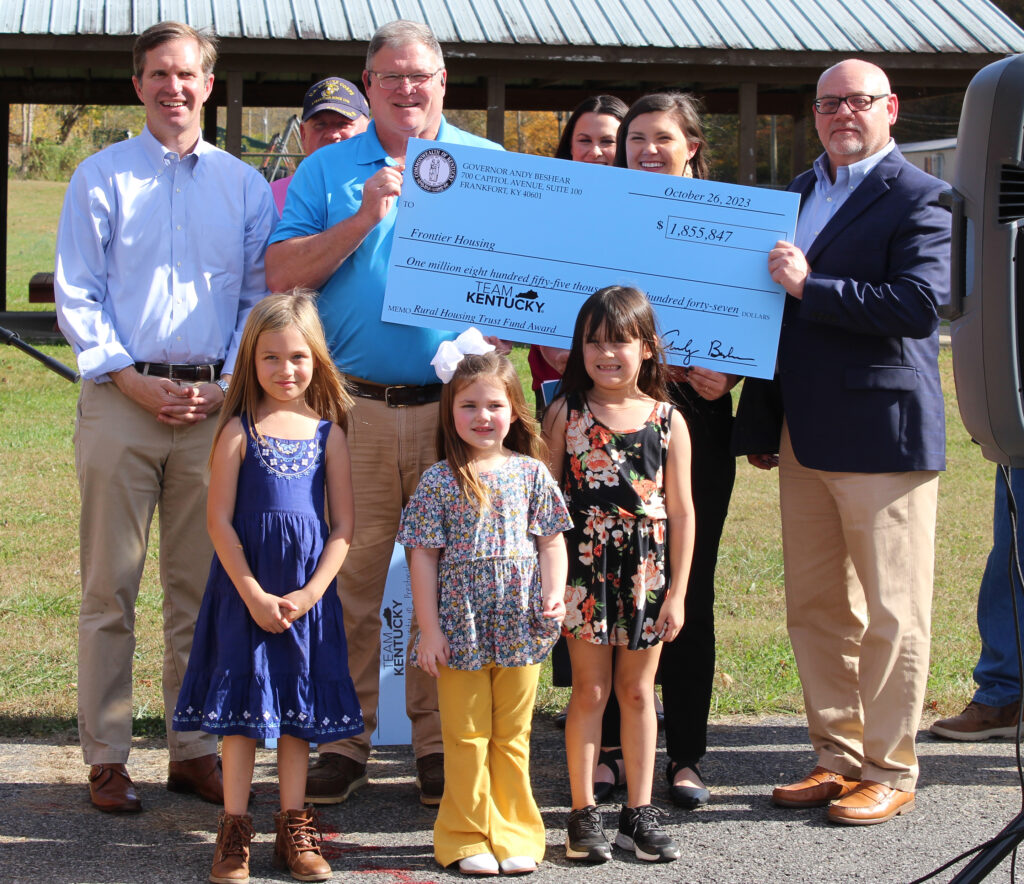 MOREHEAD, KY – Frontier Housing has been awarded $1.8 million from the state's Rural Housing Trust Fund (RHTF) to help families impacted by the 2022 flooding in four Eastern Kentucky counties.
The first round of funding was announced Oct. 26 at the Wayland Area Volunteer Fire Department in Floyd County by Gov. Andy Beshear. A total of $13.5 million was awarded to nine nonprofit housing agencies that are helping Kentuckians recover from the 2021 tornadoes that struck Western Kentucky and 2022 flooding in Eastern Kentucky.
Frontier's $1,855,847 grant will be used for new construction and home repair in Breathitt, Floyd, Magoffin and Martin counties.
Frontier congratulates the other Kentucky members of Fahe for their awards to improve housing opportunities: HOMES, Housing Development Alliance, Beattyville Housing & Development Corporation, and Partnership Housing.
"Affordable, safe housing is a fundamental human right, and in Eastern Kentucky, it's been a long-standing struggle for many families. This grant is not just financial support; it is a beacon of hope for our community," said Cody Prater, a Frontier Housing Board Member and Member of Frontier's Finance Committee. He is the Branch Manager of the People's Bank in Salyersville.
He continued: "Frontier is committed to putting this grant to the best possible use, ensuring that every dollar is used efficiently and effectively to transform lives. It is not just an investment in housing; it's an investment in our people, our community, and our future."
"Only when we come together as good neighbors and good Kentuckians will we build a stronger, more vibrant Eastern Kentucky where every family can find a place to call home."
The Kentucky General Assembly created the RHTF in March 2023 and allocated $20 million in State Aid Funding for Emergencies (SAFE) to aid disaster-impacted communities in replenishing their housing stock.
The new legislation placed administrative responsibilities within the Kentucky Housing Corporation and mandated the creation of a RHTF Advisory Committee.
This round of funding focuses on Home Repair, Recovery & Reconstruction to help existing owners impacted by disasters, and Single-Family Homebuyer Development to bring new homes to disaster-impacted markets.
______________________________
Frontier Housing is the leader for affordable housing solutions in Appalachian communities in the heart of the Ohio River Valley. Frontier improves the quality of life for individuals and families, helping them achieve long-term stability, financial independence, and generational wealth. Learn more at frontierky.org